Join Paf As Aerotrade Sportsman Jobs 2023- www.joinpaf.gov.pk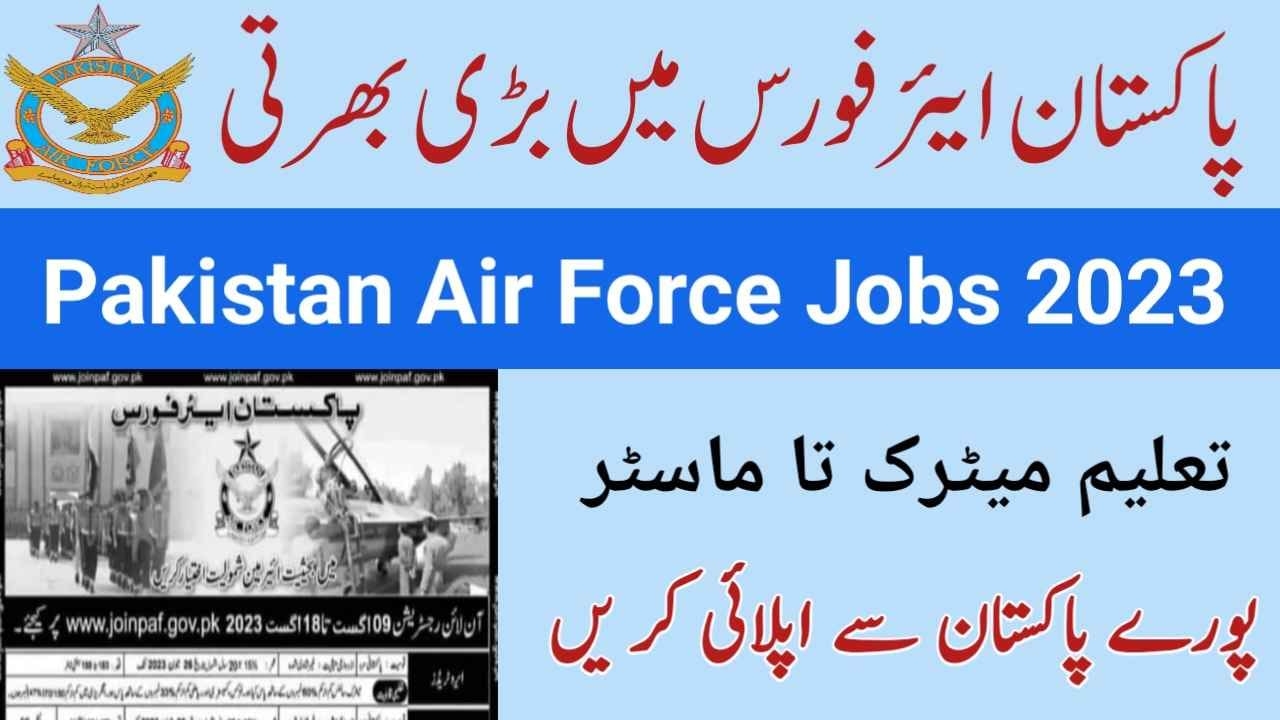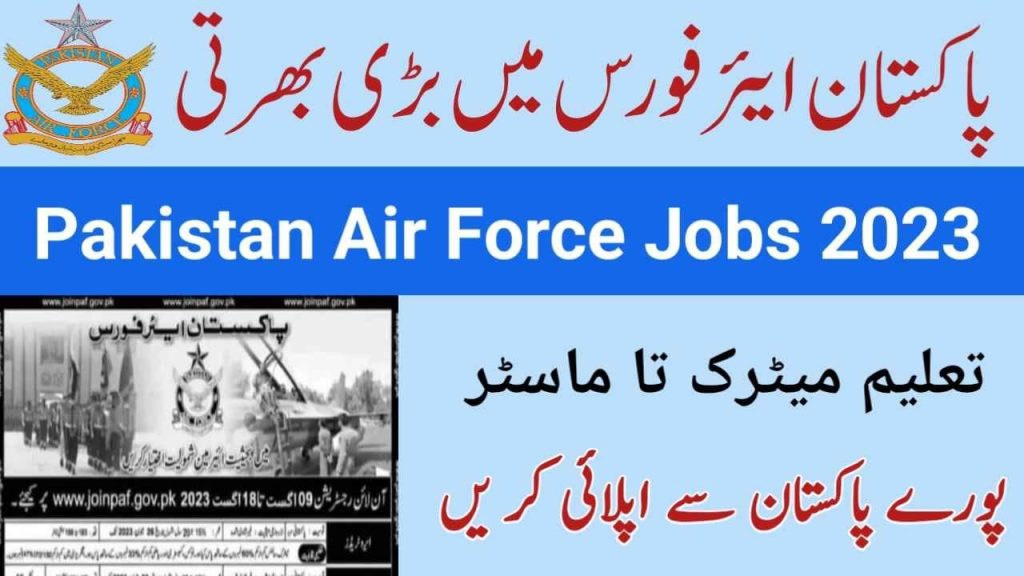 Pakistan Air force aero trade sportsman jobs vacancies are presented by the official website of Paf via www.joinpaf.gov.pk 2023. Applicant can done registration for PAF Jobs which starts from 09 August 2023. Candidates that have the nationality of Pakistan can register and join online via the official website of Paf www.joinpaf.gov.pk . All candidates have to apply online before the deadline of 18 August 2023. In this article, applicants will be guided about How to apply online and join Pakistan Air Force and what are the prerequisites for joining PaF jobs 2023.
Details And Qualification of www.joinpaf.gov.pk jobs 2023
Pakistan Air Fighter has recently opened application requests for vacant posts in Paf that include jobs of Aerotrade, Sportsman and PFDTI and Female Medical Specialists. Candidates having matriculation can grasp the golden opportunities of joining Paf as Aerotrade , PFDI(Physical Fitness and Drill Instructor) and Sportsman. Applicants who have aged from 18 years to 28 years are eligible to join via www.joinpaf.gov.pk. Interested aspirants can get this opportunity very easily as the Matric passed individuals are allowed to apply for these PAF jobs 2023. Here Complete and Brief Information about test centers , test syllabus and test pattern of Pakistan Air Force Aero trade Jobs will be provided in comprehensive and understandable words.
| | |
| --- | --- |
| Starts Date | 09 August 2023 |
| Department | Pakistan Air Force PAF |
| Domicile | All Pakistan |
| Jobs Type | Government/ Civil , Full Time |
| Education | Matric and Fsc, BS, D.I.T |
| Last Date | 18 August 2023 |
| Apply Link | PAF OFFICIAL Website www.joinpaf.gov.pk 2023 |
List Of Vaccancies
Aero Trade
PFDTI
Sportsman
Requirements and eligibility criteria for PAF jobs 2023
Interested individuals who wants apply online via www.joinpaf.gov.pk for Pakistan Air Force Jobs 2023 must fulfil the eligibility criteria mentioned below.
Only Male candidates are allowed to apply for Aerotrade, Sportsman and Education Instructor in PAF jobs 2023.
Candidates should meet the age requirement which is mentioned to be 18 years to 28 years to join www.joinpaf.gov.pk 2023 jobs.
Candidates applying for Sportsman, Aerotrade and Education Instructor must have hight 163 to 183 cm.
The Education Instructor will require a Bachelor, MA and BA with 2.5 CGPA for Pakistan Air Force Jobs 2023.
Other trades of PAF jobs require Matric in science with 60 % marks while 38 % in physics and 47 % in English.
Syllabus , Test pattern and Selection Centres of PAF Jobs 2023
Once a candidate completes registration at www.joinpaf.gov.pk, a roll number slip will be allotted to them. Pakistan Air force roll slip will give all information about the selection and tests centres of PAF.
Once an applicant confirms his eligibility for Sportsman Aerotrade and Education Instructor PAF jobs 2023 then he must visit the nearest PAF centre along with 2 Passport size photographs, educational Documents, domicile and Computerised CNIC .
Before Selection Procedure, a individual have to go through the following tests
First Candidates intelligence will be checked through Intelligence Quotation Test of PAF jobs 2023.
Academia test will be taken from the subjects like Maths, Physics, Chemistry and English
Personality tests of candidates is mandatory to join PAF via www.joinpaf.gov.pk
Candidates have to Pass medical test
Interviews will taken before the sports trails for Sportsman and All other trades jobs of PAF.
After selection Candidates will be shifted to Kohat for their training of Airman.
Pakistan Air force Jobs selection Centres
Abbottabad
Faisalabad
Hyderabad
Rawalpindi
Karachi
Lahore
Multan
Peshawar
Quetta
Sukkar
Mianwali
D I Khan
Muzaffarabad
How to apply online and Join PAF jobs via www.joinpaf.gov.pk
Pakistan Air force complete registration process is as the below steps.
First of All Candidates have to careful check and ensure that his qualifications meets the requirement of PAF aero trade and visit the official website of Pakistan Air Force to join via www.joinpaf.gov.pk.
On the Home Page of PAF website, Candidate will find apply online Button and click it to initiate registration process of Airman Jobs.
Candidates will need a computerized CNIC for www.joinpaf.gov.pk jobs online apply methods.
Now enter Your Computerized CNIC Number.
In next, Fill up all academic and educational qualifications and experience with care.
Once All information is carefully and correctly filled up, candidates have to submit the application form to PAF official website by clicking submit button.
After Application Submission, a registration slip will be alloted to candidates which will contain all information of test centres and selection centres.
For more information and to download registration slip or roll number slip visit the official website Of PAF Aerotrade Jobs 2023 i.e www.joinpaf.gov.pk .
PAF Jobs 2023 Official Advertisement